Sale price

$23.00

Regular price
Chocolate Truffle, Marzipan, Black Currant
Roast Level: Medium Dark
Back by popular demand, our best-selling Winter Solstice blend is a celebration of the longest night of the year. Inspired by cozy... READ MORE
Holiday Shipping : For gifts to arrive by December 23rd, we recommend that you place your order by December 10th. 
Winter Solstice 12oz GWP
Receive a notification when this item becomes available.
Details
Taste Notes
Chocolate Truffle, Marzipan, Black Currant
Growing Altitude
1650-2100
Variety/Processing Method
Blended / Washed
Location
Magdalena, Colombia & Kiambu, Kenya
HONORING PATRICIA KING
In the spirit of generosity, throughout the first week of sales, 100% of the proceeds from each 12 oz bag of Winter Solstice will be donated to the nonprofit organization, For the Love of Alex, as a tribute to the memory of Patricia King. For the Love of Alex is a charity that funds emergency and life-saving veterinary care for pets of low-income households.
Brewing Guide
Chemex
Dose

40g

Grind

Medium

Brew Weight

630g

Brew Time

4:00
French Press
Dose

38g

Grind

Medium-Coarse

Brew Weight

600g

Brew Time

4:00
Aeropress
Dose

17g

Grind

Fine

Brew Weight

255g

Brew Time

2:30
V60
Dose

20g

Grind

Medium-Fine

Brew Weight

315g

Brew Time

2:30
A well-balanced cup of coffee is easy to make at home. We've chosen a few of our favorite brewing methods and laid out preferred recipes. You can fine-tine our recipes to your personal preferences along the way. Have fun, experiment, and smile often!
View our Brew Guides
We roast your coffee to order Monday-Friday every week. Please see our schedule below:
Orders placed before 1:00 PM PST on Sunday through Thursday - processed the same day and roasted the following day.
Orders placed after 1:00 PM PST on Thursday - processed on Friday - roasted on Monday.
Orders placed between 1:00 PM PST Friday and 1:00 PM PST Sunday - processed on Sunday and roasted on Monday.
Please note Sightglass does not roast or ship eCommerce orders on the weekend.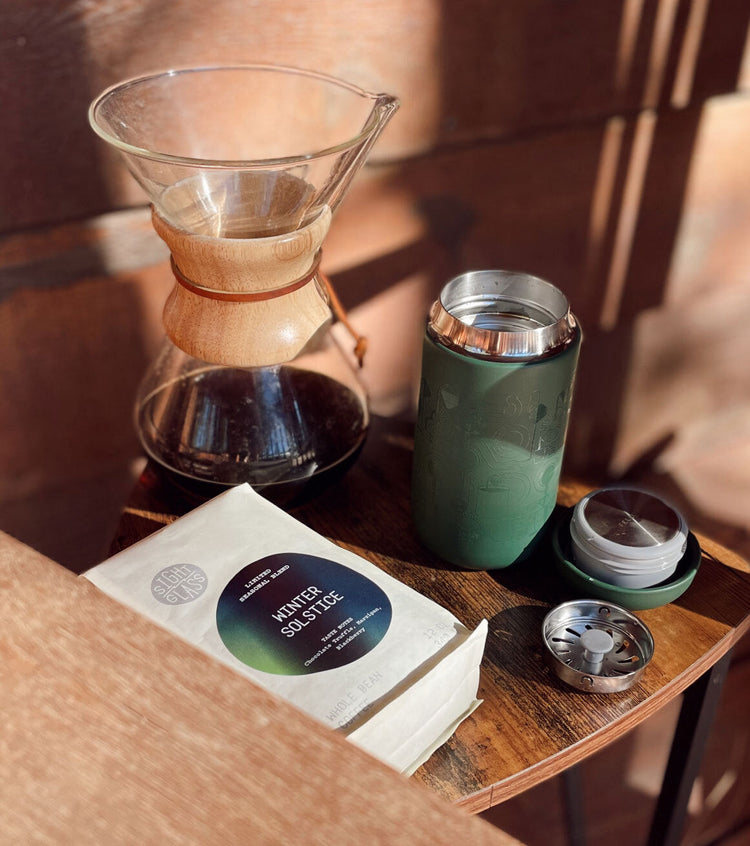 Pssst... This item is a Pre-Order!
All other products included in your order will ship on the same schedule as this coffee. See ship date below.
Your Ship Date:
April 28th, 2021
FAQ
How long does Sightglass coffee stay fresh?
Sightglass coffee tastes best up to six weeks after the roast date printed on the back of the sealed bag. Once opened, we recommend you use the coffee within two weeks for optimal freshness. Coffee will taste best when ground immediately before brewing.
How many cups of coffee are in a bag?
Using the recipe that we use in-store, each 12oz bag makes 17 cups of coffee - just the right amount for one person to use in two weeks or for a pair of coffee drinkers to enjoy in a week. Each 2LB bag makes 45 cups of coffee - just the right amount for one person to use in 3 weeks for two people Each 5LB bag makes 113 cups of coffee - just the right amount for one person to use in 8 weeks for two people