Sightglass Instant: La Magdalena, Tolima
Sale price

$17.00

Regular price
Toffee, Concord Grape, Red Apple
Roast Level: Medium
Instantaneously delicious. Keep a pack in your glove box or a single in your shirt pocket for specialty coffee o... READ MORE
Holiday Shipping : For gifts to arrive by December 23rd, we recommend that you place your order by December 10th. 
Sightglass Instant: La Magdalena, Tolima
Receive a notification when this item becomes available.
Details
Sightglass everywhere. Swift Coffee helped us fit a delicious cup of coffee into a teensy, tiny, transportable package. No tools required! (Unless you consider an empty cup to be a tool.) Each package includes six single servings.
Chemex
Dose

40g

Grind

Medium

Brew Weight

630g

Brew Time

4:00
French Press
Dose

38g

Grind

Medium-Coarse

Brew Weight

600g

Brew Time

4:00
Aeropress
Dose

17g

Grind

Fine

Brew Weight

255g

Brew Time

2:30
V60
Dose

20g

Grind

Medium-Fine

Brew Weight

315g

Brew Time

2:30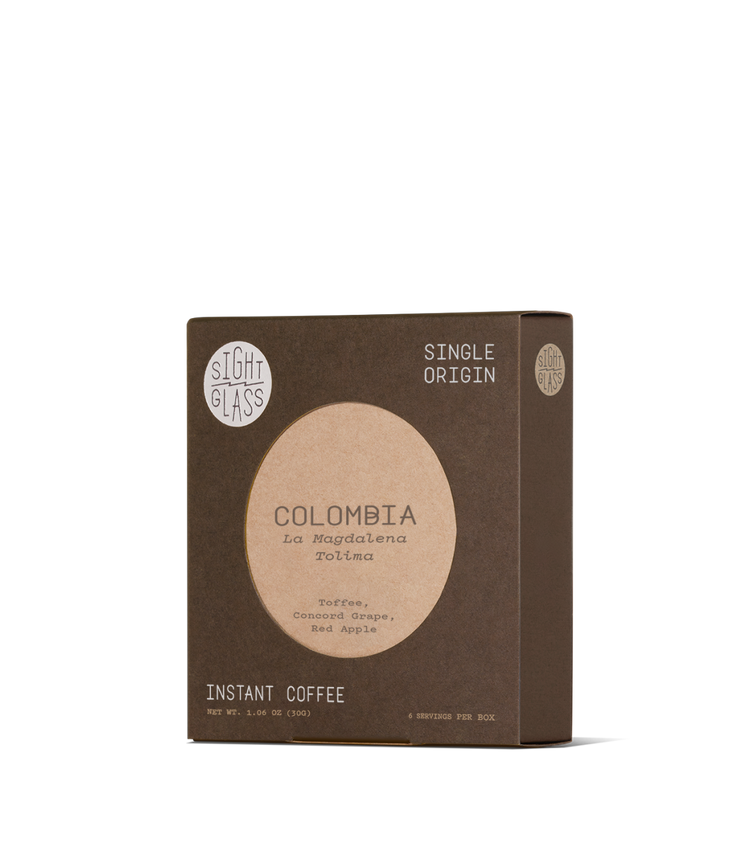 Pssst... This item is a Pre-Order!
All other products included in your order will ship on the same schedule as this coffee. See ship date below.
Your Ship Date:
April 28th, 2021
Perfect instant - never leave home without it!

Love love love this instant coffee. I stumbled upon this amazing coffee on a work trip to San Francisco. I always travel with instant because you never know what you are going to get at a hotel. This is the most delicious instant I have ever had. Rich and smooth without any acidic aftertaste. And tastes like fresh ground beans. I now buy it in bulk and never travel without it!! Well done, Sightglass!

Delightful Travel Coffee

If you're traveling and don't have time to seek out a local coffee shop or roaster these are must have. The k-cups in hotels are miserable, but they can be also provide hot water to make sight glass coffee. This instant is one of the best I've had, probably the best since it's quite close to making your own cup with real beans or grind.

Best instant coffees hands down.

It's great. I love the taste and the convenience when I'm busy or just need one cup for the day.

I've converted a few people who said they would never drink instant coffee. They now realize this is not your grandmothers instant coffee😊
Reviews Loaded
Reviews Added
FAQ
How much caffeine is in Sightglass Instant coffee?
Based on how much coffee is used to make each pre-weighed pouch it should contain between 120-140mg per serving. This is similar to a 12 oz cup of coffee.