Baroida Estate, Eastern Highlands
Strawberry, Fresh Tarragon, Medjool Date
Sale price

$24.00

Regular price
This outstanding coffee is the result of meticulous management; the farm is divided into twenty-nine separate lots, each at a different elevatio... READ MORE
Baroida Estate, Eastern Highlands
Receive a notification when this item becomes available.
Details
Brewing Guide
Shipping
Details
Taste Notes
Strawberry, Fresh Tarragon, Medjool Date
Growing Altitude
1700-1850
Variety/Processing Method
Arusha, Bourbon, Mondo Novo / Washed
Location
Kianatntu District, Eastern Highlands
Established in the 1960's, Baroida Estate has been a pioneer in Papua New Guinea's coffee industry. Baroida Estate continuously produces some of the most expressive and clean coffees from the South Pacific that we have found. Densely sweet with notes of fresh berries and dark chocolate, this coffee is bound to delight.
Placing a bulk order? See our FAQ page for more details.
Brewing Guide
Chemex
Dose

40g

Grind

Medium

Brew Weight

630g

Brew Time

4:00
French Press
Dose

38g

Grind

Medium-Coarse

Brew Weight

600g

Brew Time

4:00
Aeropress
Dose

17g

Grind

Fine

Brew Weight

255g

Brew Time

2:30
V60
Dose

20g

Grind

Medium-Fine

Brew Weight

315g

Brew Time

2:30
A well-balanced cup of coffee is easy to make at home. We've chosen a few of our favorite brewing methods and laid out preferred recipes. You can fine-tine our recipes to your personal preferences along the way. Have fun, experiment, and smile often!
View our Brew Guides
Shipping
We roast your coffee to order Monday-Friday every week. Please see our schedule below:
Orders placed before 1:00 PM PST on Sunday through Thursday - processed the same day and roasted the following day.
Orders placed after 1:00 PM PST on Thursday - processed on Friday - roasted on Monday.
Orders placed between 1:00 PM PST Friday and 1:00 PM PST Sunday - processed on Sunday and roasted on Monday.
Please note Sightglass does not roast or ship eCommerce orders on the weekend.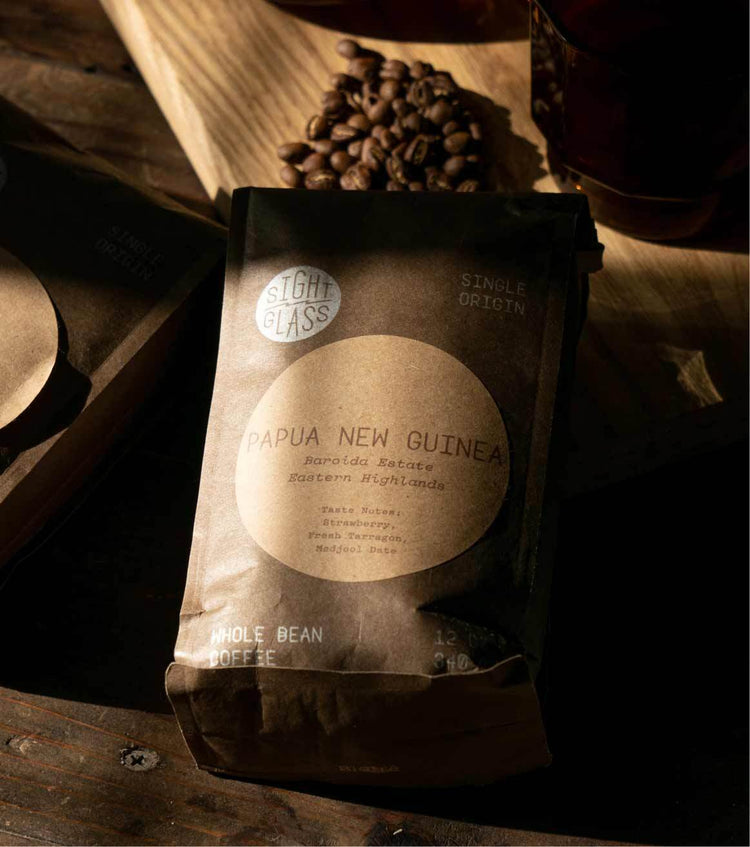 Pssst... This item is a Pre-Order!
All other products included in your order will ship on the same schedule as this coffee. See ship date below.
Your Ship Date:
April 28th, 2021
Baroida estate coffee

This is wonderful unique and very special coffee we have every morning for few days and is simple divine beautiful taste balance acidity flavor that you enjoy with every cup and will buy more for sure . Highly recommend Margaret

Really great

I love Onyx coffee but it gets expensive so I thought I'd give Sightglass a try and it did not disappoint. This coffee is fantastic in both espresso and pour over. Great fruity notes, which I enjoy.

Solid bean, smooth and subdued flavor.

I like the bean in general, high quality bean with very little quaker and shells! The tasting profile to me has a milder flavor of honeysuckle with a hint of strawberry.

5 Stars

Baroida Estate, Eastern Highlands
Reviews Loaded
Reviews Added
FAQ
How do I subscribe to this coffee?
Single origin coffee subscriptions are available here through our Seasonal Variety program
How many cups of coffee are in a bag?
Using the recipe that we use in-store, each 12oz bag makes 17 cups of coffee - just the right amount for one person to use in two weeks or for a pair of coffee drinkers to enjoy in a week.
Each 2LB bag makes 45 cups of coffee - just the right amount for one person to use in 3 weeks or for two people to enjoy in a week and a half

Each 5LB bag makes 113 cups of coffee - just the right amount for one person to use in 8 weeks or for two people to enjoy in a month

How long does Sightglass coffee stay fresh?
Sightglass coffee tastes best up to six weeks after the roast date printed on the back of the sealed bag. Once opened, we recommend you use the coffee within two weeks for optimal freshness. Coffee will taste best when ground immediately before brewing.
Seasonal Variety Subscription
Curated seasonal favorites.
✔ Free Shipping on 2lb bags
✔ Save Up to 15% on Every Order
✔ Pause or cancel anytime
Subscribe Today
Goes Well with:
Sightglass x Fellow Carter Mug in Really Red
Sale price

$35.00

Regular price
Aeropress Coffee Maker
Sale price

$39.95

Regular price

$44.99
Aeropress Micro-Filters
Sale price

$7.95

Regular price