Owl's Howl, Blueboon, Toketee
Sale price

$55.00

Regular price

$61.50
This delicious set features three unique, organic coffees that encourage you to explore flavor profiles that range from milk chocolate and dense... READ MORE
Details
Enjoying organic coffee means that from branch to brew, you're supporting healthier ecosystems and communities where the coffee is grown.
Set includes 3, 12oz bags
*Whole bean only with no substitutions
Chemex
Dose

40g

Grind

Medium

Brew Weight

630g

Brew Time

4:00
French Press
Dose

38g

Grind

Medium-Coarse

Brew Weight

600g

Brew Time

4:00
Aeropress
Dose

17g

Grind

Fine

Brew Weight

255g

Brew Time

2:30
V60
Dose

20g

Grind

Medium-Fine

Brew Weight

315g

Brew Time

2:30
Shipping
We roast your coffee to order Monday-Friday every week. Please see our schedule below:
Orders placed before 1:00 PM PST on Sunday through Thursday - processed the same day and roasted the following day.
Orders placed after 1:00 PM PST on Thursday - processed on Friday - roasted on Monday.
Orders placed between 1:00 PM PST Friday and 1:00 PM PST Sunday - processed on Sunday and roasted on Monday.
Please note Sightglass does not roast or ship eCommerce orders on the weekend.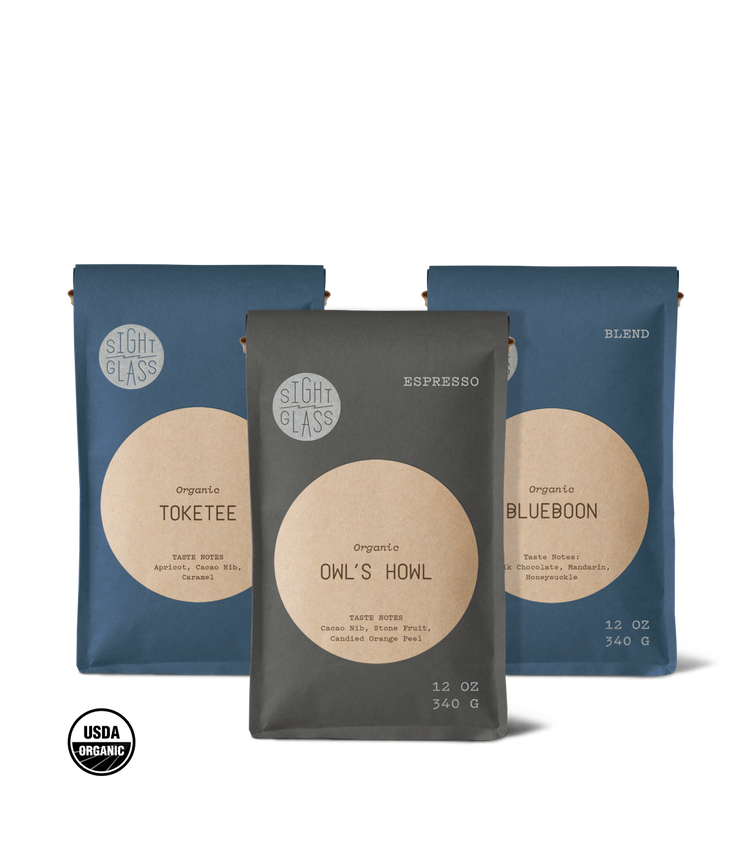 Pssst... This item is a Pre-Order!
All other products included in your order will ship on the same schedule as this coffee. See ship date below.
Your Ship Date:
April 28th, 2021
Goes Well with:
Sun Buddy Tote in Brilliant Yellow
Sale price

$28.00

Regular price
Sightglass x Fellow Carter Mug in in Monochrome Blue
Sale price

$35.00

Regular price
Chemex Filters
Sale price

$8.50

Regular price