Sightglass Instant: Blueboon
Milk Chocolate, Mandarin, Honeysuckle
Sale price

$17.00

Regular price
Instantaneously delicious. Keep a pack in your glove box or a single in your shirt pocket for specialty coffee on the go.
READ MORE
Sightglass Instant: Blueboon
Receive a notification when this item becomes available.
Details
Sightglass everywhere. Swift Coffee helped us fit a delicious cup into a teensy, tiny, transportable package. No tools required! (Unless you consider an empty cup to be a tool.)
Each package includes six single servings.
Each packet contains 130 mg of caffeine
Chemex
Dose

40g

Grind

Medium

Brew Weight

630g

Brew Time

4:00
French Press
Dose

38g

Grind

Medium-Coarse

Brew Weight

600g

Brew Time

4:00
Aeropress
Dose

17g

Grind

Fine

Brew Weight

255g

Brew Time

2:30
V60
Dose

20g

Grind

Medium-Fine

Brew Weight

315g

Brew Time

2:30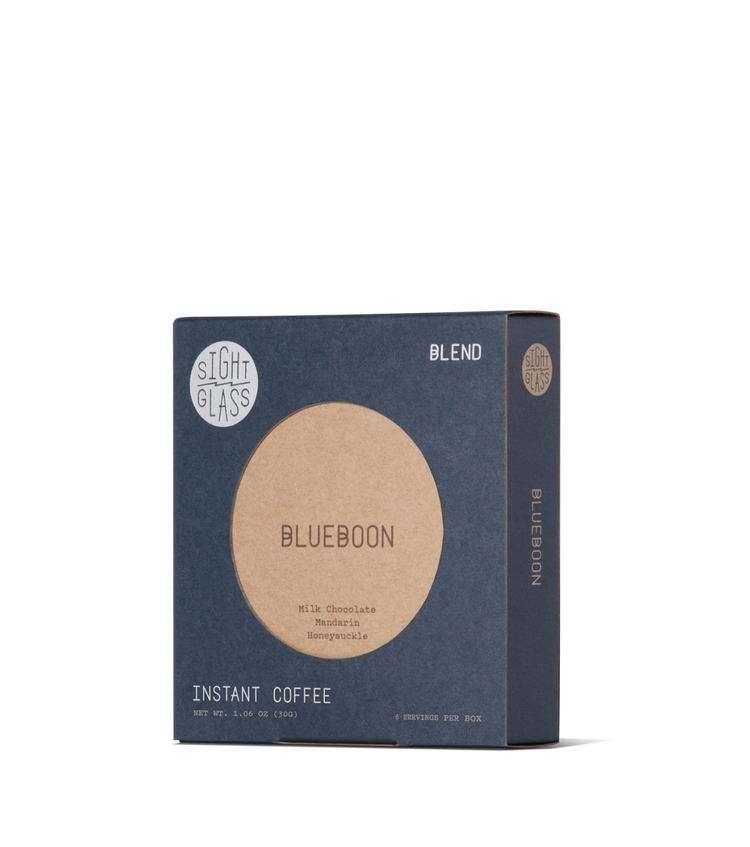 Pssst... This item is a Pre-Order!
All other products included in your order will ship on the same schedule as this coffee. See ship date below.
Your Ship Date:
April 28th, 2021
Instant coffee packets

Delicious and perfect for travel.

Wow, Pretty Good For Instant Coffee!

I used to drink instant coffee and then converted to a novice "coffee snob" and grinding my own stuff and using Chemex.

Recently, I've been seeing some coffee shops doing instant coffees so my reviews are based off of these so far:

- Starbucks (I know...I was on vacation :'( ) <-- I didn't enjoy

- Bird Rock Coffee Roasters (San Diego) <-- I didn't enjoy

I was very impressed with SightGlass Blueboon! It does have like...this HINT of instant coffee but there's something more deep/bold about it? Hard to explain.

I think the key is to not add too much water (8oz recommended) and it'll taste like a normal cup of coffee. With that, it didn't taste watered down at all and tastes good!

Looking for caffeine hit? I don't think it has the same effect as normal coffee.

As someone mentioned, the packaging is nice and eco friendly. Love it. I plan to buy a couple more for camping trips.

Give it a try :)

I do not recommend this product

Tastes Like Instant Coffee

I can't recommend this instant coffee. Very expensive and tastes like instant coffee from the supermarket. I would not buy it again. Only reason I'm giving it two stars instead of one is because of the nice packaging.

Coffee magic

After stirring it into some hot water I dump it into a pint measuring cup of ice, stirring to quickly cool it down.

Then I immediately strain the coffee out into a cup to serve. 🤎
Reviews Loaded
Reviews Added
FAQ
How much caffeine is in Sightglass Instant coffee?
Based on how much coffee is used to make each pre-weighed pouch it should contain between 120-140mg per serving. This is similar to a 12 oz cup of coffee.