Nectarine, Key  Lime, Honeysuckle
Sale price

$25.00

Regular price
Details
Brewing Guide
Shipping
Details
Taste Notes
Nectarine, Key Lime, Honeysuckle
Growing Altitude
1900-2200 masl
Variety/Processing Method
Ethiopian Heirloom/Washed
Location
Agaro Gera, Jimma
Some of the earliest arrivals from Ethiopia every year hail the Jimma zone. Located about 200 miles from the heart of the more well-known Guji zone, Jimma has transformed from an under-appreciated region to a rapidly developing powerhouse. For the past decade, we've sourced coffee in Jimma from a wide variety of washing stations, especially further west along the edge of the forest line. This is our first year buying coffee from the Nano Genji washing station. Each year we taste through dozens of offers from existing partners, new relationships, and the occasional unsolicited offer that shows up in Ziploc bags with a handwritten note. Our friends at Red Fox Coffee Merchants shared a few arrival samples and we were instantly sold. A quintessential example of Ethiopian coffee, Nano Genji has nectarine juiciness, honeysuckle sweetness, and a complex key lime sweetness. While some other regions are known for their bombastic floral notes, coffees from Agaro balance depth, sweetness, and floral qualities in an ideal ratio. Enjoy this coffee while you can - we have a limited volume of this coffee available that will not last through the end of the year.

This coffee is available for pre-order only. Pre-Orders Close: Monday 9/25/23 @ 1pm PST. Orders Roast & Ship: Tuesday 9/26/23.
Brewing Guide
Chemex
Dose

40g

Grind

Medium

Brew Weight

630g

Brew Time

4:00
French Press
Dose

38g

Grind

Medium-Coarse

Brew Weight

600g

Brew Time

4:00
Aeropress
Dose

17g

Grind

Fine

Brew Weight

255g

Brew Time

2:30
V60
Dose

20g

Grind

Medium-Fine

Brew Weight

315g

Brew Time

2:30
A well-balanced cup of coffee is easy to make at home. We've chosen a few of our favorite brewing methods and laid out preferred recipes. You can fine-tine our recipes to your personal preferences along the way. Have fun, experiment, and smile often!
View our Brew Guides
Shipping
We roast your coffee to order Monday-Friday every week. Please see our schedule below:
Orders placed before 1:00 PM PST on Sunday through Thursday - processed the same day and roasted the following day.
Orders placed after 1:00 PM PST on Thursday - processed on Friday - roasted on Monday.
Orders placed between 1:00 PM PST Friday and 1:00 PM PST Sunday - processed on Sunday and roasted on Monday.
Please note Sightglass does not roast or ship eCommerce orders on the weekend.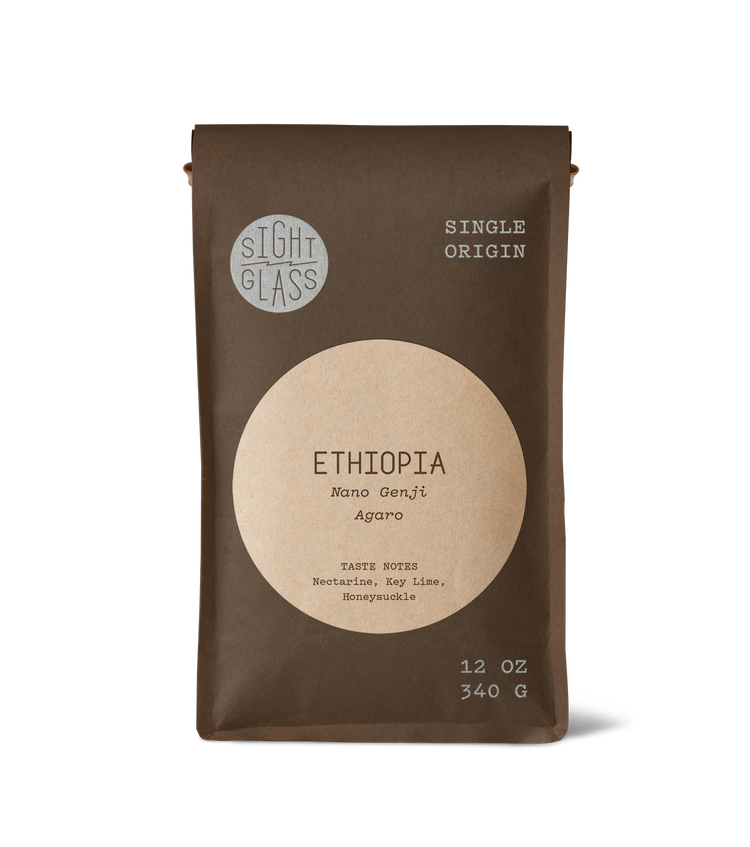 Pssst... This item is a Pre-Order!
All other products included in your order will ship on the same schedule as this coffee. See ship date below.
Your Ship Date:
April 28th, 2021
FAQ
How do I subscribe to this coffee?
Single origin coffee subscriptions are available here through our Seasonal Variety program
How many cups of coffee are in a bag?
Using the recipe that we use in-store, each 12oz bag makes 17 cups of coffee - just the right amount for one person to use in two weeks or for a pair of coffee drinkers to enjoy in a week.
Each 2LB bag makes 45 cups of coffee - just the right amount for one person to use in 3 weeks or for two people to enjoy in a week and a half

Each 5LB bag makes 113 cups of coffee - just the right amount for one person to use in 8 weeks or for two people to enjoy in a month

How long does Sightglass coffee stay fresh?
Sightglass coffee tastes best up to six weeks after the roast date printed on the back of the sealed bag. Once opened, we recommend you use the coffee within two weeks for optimal freshness. Coffee will taste best when ground immediately before brewing.